Regular price
Sale price
$10.00 USD
Unit price
per
Sale
Sold out
🍌 Peanut Butter Banana Biscuits: A Treat Your Pup Will Go Bananas For 🐶
Introducing Joey's Famous Dog Treats' Peanut Butter Banana Biscuits—a perfect blend of irresistible flavors that your pup will surely love! Handmade with the same four wholesome ingredients as our classic biscuits, these 3-inch long biscuits are then elevated with the delicious tastes of peanut butter and banana.
🥜 Handcrafted with Wholesome Ingredients 🍌
Every Peanut Butter Banana Biscuit is lovingly crafted in Davenport, Iowa using:
Flour
Oats
Coconut Oil
Water
Peanut Butter
Banana
Packaged in a convenient 8.81oz (250g) bag, these delectable treats will make your dog's tail wag with delight. Don't wait, try our Peanut Butter Banana Biscuits today and bring a touch of sweetness into your pup's life!
🚚 Shipping and Local Pickup Options Available 🌎
We offer worldwide shipping with discounted rates for the United States, and local pickup and delivery options in the Davenport, Iowa area. Treat your pup to the snack they deserve no matter where you are!
🐾 Our Story
Hi, I'm Joseph Evans, a 15-year-old entrepreneur from Davenport, Iowa. Joey's Famous Dog Treats is on a mission to provide dogs everywhere with simple, healthy, and delicious treats. Each of our treats is made with love and inspired by my own Cocker Spaniel, Stanley.
Get your bag of Peanut Butter Banana Biscuits today and make your pup's snack time extra special! 🎉
Share
View full details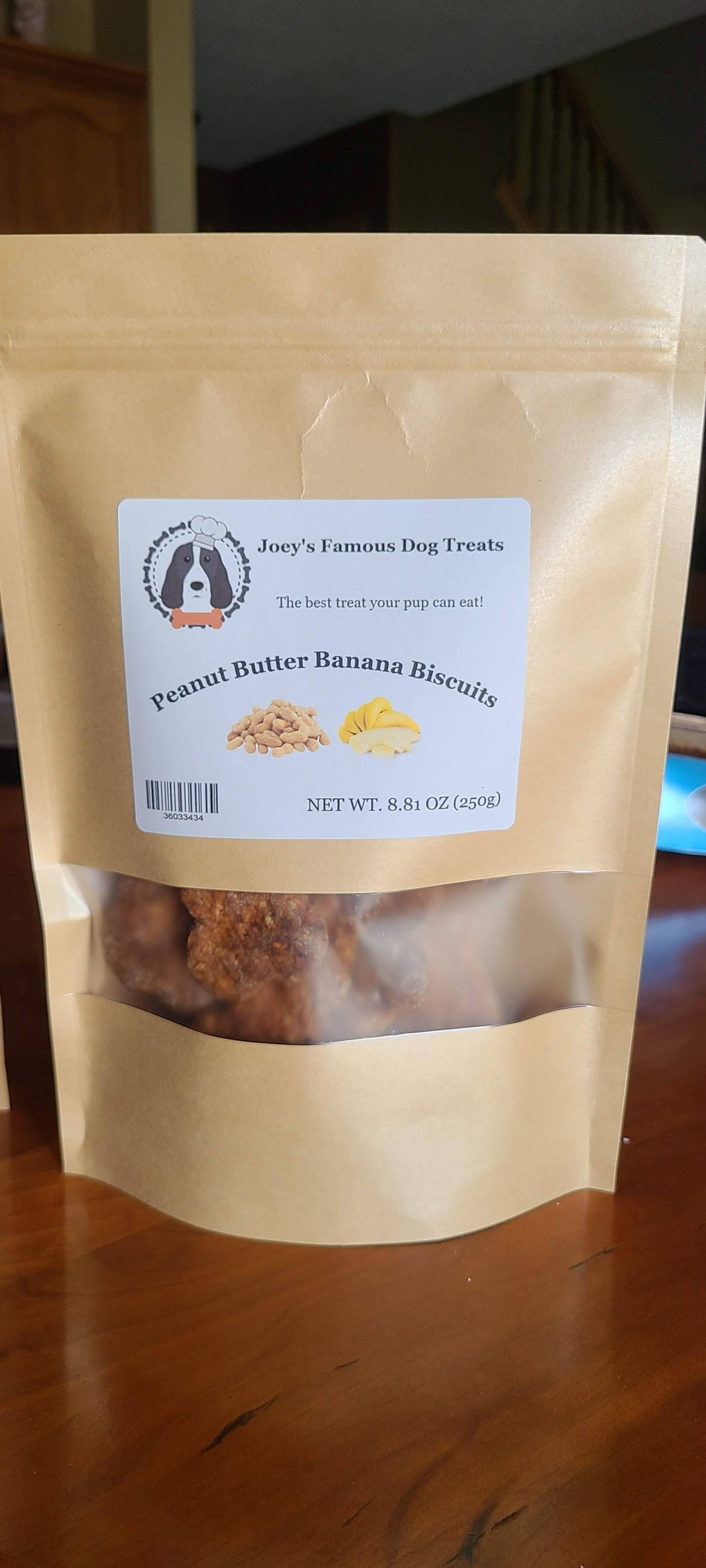 Judy Twining - Peanut Butter Banana Biscuits for Tootsiee, Chinnoo, and Orreoo
The Girls really enjoy these "cookies" and look forward to 7PM Cookie Tome at The Twinings.